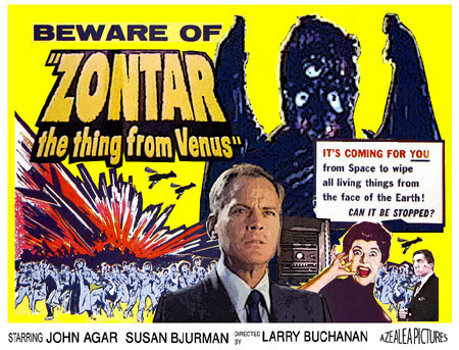 Men are from Mars, Zontar is from Venus.
Lydia and Christopher slice up a helping of b-movie cheese with this 1966 John Agar film.
Promo: Cinema PSYOPS (http://cinemapsyops.podbean.com/)
Promo: Saturday B-Movie Reel
(http://www.saturdaybmoviereel.com/)
Oethel Ratings: 2 1/2 of out 5 œ's from Christopher, and 2 of out 5 œ's from Lydia!
You are to become one of us. It will be better, very much better at –  http://www.facebook.com/groups/orphanedentertainment
Podcast: Play in new window | Download
Subscribe: Apple Podcasts | Android | RSS
(The song "Memory Subtract" by seven7hwave used under a
Creative Commons Attribution-NonCommercial-ShareAlike 3.0 Unported License.
http://seven7hwave.bandcamp.com/track/memory-subtract
)