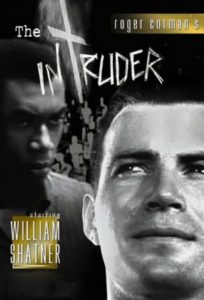 After 5 years of deliberation, Christopher and Lydia tackle Roger Corman's only true "message film", The Intruder.
It is the 1960's and racism is alive and well when William Shatner stirs up trouble for a small southern town on the eve of school desegregation.
Warning: The language used in the discussion and audio clips may be offensive to some listeners.
Promo: The B-Movie Cast (http://www.bmoviecast.com)
Podcast: Play in new window | Download
Subscribe: Apple Podcasts | Android | RSS
(The song "Memory Subtract" by seven7hwave used under a
Creative Commons Attribution-NonCommercial-ShareAlike 3.0 Unported License.
http://seven7hwave.bandcamp.com/track/memory-subtract
)