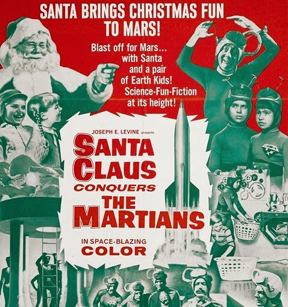 You spell it S-A-N-T-A C-L-A-U-S,
Hooray for Orphaned Entertainment! The jolly trio of OE step out from under the mistletoe to take on the much maligned Christmas "classic", Santa Claus Conquers the Martians!
MERRY CHRISTMAS EVERYONE!!!
Podcast: Play in new window | Download
Subscribe: Apple Podcasts | Android | RSS
If you would like to get in touch with us with any suggestions, comments or general feedback you can join us on our Facebook page at facebook.com/groups/OrphanedEntertainment/
(The song "Memory Subtract" by seven7hwave used under a
Creative Commons Attribution-NonCommercial-ShareAlike 3.0 Unported License.
http://seven7hwave.bandcamp.com/track/memory-subtract
)