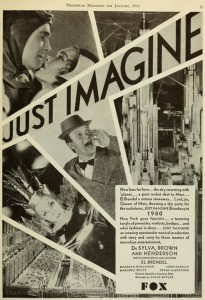 It is our 3 year anniversary! Just imagine what the future of Orphaned Entertainment might be like…
While you ponder on that, listen to our thoughts on what 1930 thought 1980 might be like in the film, Just Imagine!
Podcast: Play in new window | Download
Subscribe: Apple Podcasts | Android | RSS
Oethel ratings for this month, 
Lydia – 3 Œ's
Christopher gives it a solid 2 Œ's
Promo: Human Echoes http://humanechoes.com
(The song "Memory Subtract" by seven7hwave used under a
Creative Commons Attribution-NonCommercial-ShareAlike 3.0 Unported License.
http://seven7hwave.bandcamp.com/track/memory-subtract
)