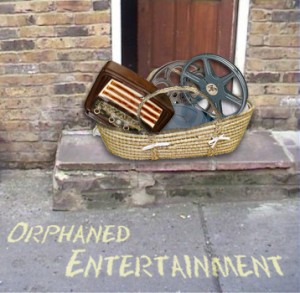 We leave the world of film behind this month and explore four radio plays from the 40's and 50's, and we bring in a friend to help.
Podcast: Play in new window | Download
Subscribe: Apple Podcasts | Android | RSS
If you want to check out the shows before you listen, which we recommend, here are the links.
X-Minus One – The Tunnel under the World
http://relicradio.com/otr/2012/12/sf238-the-tunnel-under-the-world-by-x-minus-one/
http://relicradio.com/otr/2012/07/rrt226-shock-by-hollywood-star-time/
The Abbot and Costello Show
http://relicradio.com/otr/2012/12/lol283-the-abbott-and-costello-show/
Murder at Midnight – The House Where Death Lived
http://relicradio.com/otr/2013/01/h482-house-where-death-lived-by-murder-at-midnight/
Join our Facebook group at http://www.facebook.com/groups/OrphanedEntertainment/
(The song "Memory Subtract" by seven7hwave used under a
Creative Commons Attribution-NonCommercial-ShareAlike 3.0 Unported License.
http://seven7hwave.bandcamp.com/track/memory-subtract
)